Broken Dentures: What to Do and How to Prevent from Happening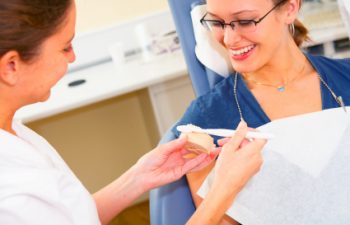 Dentures have served as the solution for people who suffer from tooth loss for many years. And despite the availability of newer options, there are those who still prefer the "old but gold" approach. Fortunately, the advances in dental technology introduced better materials and techniques for an improved oral appliance. However, there is one problem that is experienced by many from the past and until today—broken dentures.
Some of the most common reasons for dentures to break are:
Wear and tear due to its use over time

Change in pressure applied due to the loss of bone

Temperature variations when consuming certain foods or liquids

Acidity and moisture in the mouth

Incidental or accidental breakage
Once the oral appliance gets damaged, what is the best course of action to take? Here are some tips!
Avoid self-repair
At Allen Dentistry, we highly recommend our patients to refrain from performing self-repair. The use of over the counter repair kits and instructional videos are no-go. Although these options seem to be quick and easy fixes, know that it can lead to more harm as well as damage.
Take the dentures off
Patients should stop wearing the broken appliance. Not having teeth may not be the most pleasant, but it is currently the better option than to suffer from cuts, irritation, or worse— infection.
See the dentist
For denture repair, the best assistance every patient needs is from a dental professional. They have the tools and expertise required to cater to the patient's need effectively. The dentist would determine how the denture will be repaired by checking the type and reason for the damage. At the same time, the patient will be informed if the appliance can be fixed the same day or if it needs to be sent to an off-site laboratory.
For patients to keep their appliance in shape and prevent breakage, here are some tips worth noting:
It is best if the patient understands everything there is to know about dentures; for example, how they work and what happens to them over time

Knowing the factors that can cause the appliance to change matters

Make sure to replace dentures as advised by the dentist to keep it fully functional

Cleaning the oral device properly every day can help make it last longer

Follow the recommendations given by the dentist for its proper maintenance

Do not wear the oral device during sleep; soak it in a solution as advised

Maintain a good oral hygiene practice at home

Schedule dental appointments regularly to keep oral health in check and the appliance in shape
Aiming to restore your teeth as natural as it was before? Contact us to know more about our Dentures service in Allen, TX, or to schedule your appointment with Allen Dentistry!