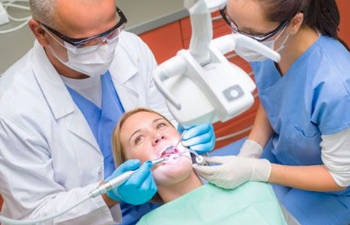 Most people do not give much thought to their teeth on a regular basis. In fact, most of us take our teeth for granted every day in spite of the fact that they help us chew foods, communicate with others, and smile confidently. However, if something goes wrong with a tooth, or multiple teeth, you can bet that you will have a new appreciation for the value of a healthy smile! Dental decay, infection, and trauma to the mouth are the most common causes of damage to the teeth. If any of these occur within your mouth, it is always necessary that you have needed dental restorations done as soon as possible in order to save your teeth and restore your smile. At Allen Dentistry, we are proud to offer dental restorations to patients of all ages who have issues within their mouths that need attention. We understand the direct correlation between one damaged tooth and your entire body, and we provide the highest standard in dentistry in order to restore your oral health
Many people falsely believe that an issue "with just one tooth" is no big deal. However, the truth of the matter is that any issue involving one or multiple teeth is a huge deal. Multiple studies over the past decades have proven that there is a direct link between the health of your mouth and the health of your body. Diabetes, liver failure, and heart disease can all be linked in patients who suffered from poor oral health. Having dental restorations taken care of quickly can restore your health, and it can prevent further issues from arising within your mouth.
At Allen Dentistry we are proud to provide the following dental restorations:
Dental Bridges
Dental Crowns
Dental Implants
Dentures
Gum Disease Treatment
Porcelain Veneers
Root Canals
Same Day Emergency Dentistry
Teeth Whitening
Tooth Extractions
White Fillings
And more
Dental restorations go beyond just correcting the appearance of your smile, they are specific dental procedures done to restore the health and function of your entire mouth. Allen Dentistry is the name that you can trust in Allen, Texas. Contact our practice today to schedule an appointment. We are dedicated to making your experience as positive and rewarding as possible!
Posted on behalf of Allen Dentistry