How To Handle A Dental Emergency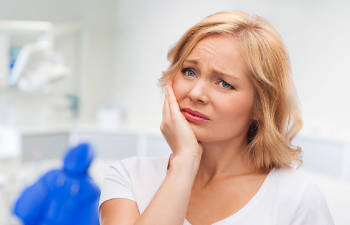 No emergency occurs at an opportune time, and dental emergencies are no exception. Regardless of your age, dental emergencies are stressful, painful, and scary situations – and knowing how to handle a dental emergency before one occurs is typically what determines how well you are able to restore your smile.
A knocked out tooth is the most obvious, and typically the most dreaded, type of dental emergency. Once a tooth is knocked out or knocked loose from its socket, it will immediately begin to die because it has lost its direct blood supply. Acting quickly and appropriately will give you the best chance for saving and restoring your tooth. Waste no time in following these 4 specific steps:
Find the tooth!
Rinse it off carefully, without scrubbing, and try to place it back into its socket.
If unsuccessful at placing the tooth, keep it moist in your own saliva or milk.
Get to your dentist immediately.
While a knocked out tooth is an obvious dental emergency, it is typically the other emergencies that get people into a great deal of trouble. The reason being is that many people do not categorize certain issues as emergencies. The following list provides criteria for all dental emergencies:
Cracked or broken tooth
Damaged dental bridge or crown
Dental bleeding
Extreme tooth sensitivity
Infection or abscess in the mouth
Injured jaw
Knocked out tooth
Lost filling
Swelling in the mouth
Tooth pain
What gets many people into trouble is that they do not view many of these as dental emergencies, and they put off having them addressed. It is essential to understand that the mouth does not promote self-healing. Millions of bacteria are present inside the mouth at any given moment, making the mouth susceptible to further damage and decay. Ignoring a lost filling, tooth pain or sensitivity is not going to make the issue go away – in fact, it will make the issue worse. While a knocked out tooth requires immediate intervention, the other dental emergencies should not go more than 3 days without being addressed.
At Allen Dentistry, we are here for your dental emergency situations. Please contact us right away should any emergency arise so that your needs can be addressed and your dental health can be restored.
Posted on behalf of Allen Dentistry