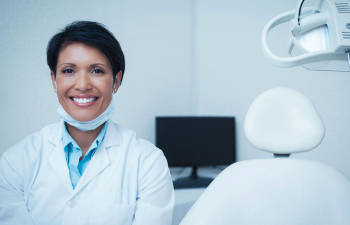 Walking through the dental health care aisle at your local grocery or drug store leaves you with many options. There are different flavors of toothpaste and floss, different types of toothpaste, and there are also many varieties of mouthwash. You know that brushing and flossing are encouraged by your dentist, but what about mouthwash? Is it a necessary component of your oral health care routine? The answer is both no, and yes.
If you are an avid flosser and you brush your teeth at least twice a day, mouthwash is not a necessary factor of your at-home oral health care. Brushing and flossing are great at keeping your mouth clean and free of dental plaque between your dental visits, so adding mouthwash to your daily routine is not necessary.
However, if you do not floss your teeth every single day and/or you occasionally skip out on brushing – adding mouthwash to your at-home routine can be very beneficial.
Mouthwash contains ingredients that kill the harmful bacteria that live in the dental plaque that forms inside your mouth on a daily basis. It is these bacteria that produce the acids which are responsible for causing cavities and tooth decay.
Flossing the teeth removes plaque from the tight spaces between the teeth where food particles notoriously become trapped, and brushing the teeth removes plaque from the surfaces of the teeth. If you are not doing both of these daily, then plaque is building up on your teeth and eating away at your tooth enamel and gum tissue. Adding mouthwash to your routine will not remove the plaque, but it will kill the bacteria inside the plaque that are attacking your oral health. It is necessary to choose a mouthwash with the American Dental Association's (ADA's) seal of approval so that you are guaranteed to have the ingredients necessary to combat the damaging bacteria.
While nothing will take the place of flossing and brushing for keeping your mouth as clean and healthy as possible, adding mouthwash can be beneficial to many people. At Allen Dentistry, we want to help you achieve optimal oral health, and we will be happy to recommend a great mouthwash. Call today for an appointment.
Posted on behalf of Allen Dentistry